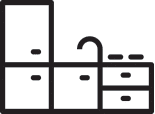 CABINETS MATERIALS
Your choice of new kitchen cabinets will of course be influenced by the style of your kitchen, your budget and the materials you choose. Our kitchen designers will help you make the right choices to meet your needs.
COME AND SEE OUR SHOWROOM
WE HAVE A LOT OF PRODUCTS TO SHOW YOU !
COUNTERTOPS MATERIAL
The countertop not only serves as a work surface, it is also an important decorative element that enhances the beauty of your cabinets. Enjoy a wide selection in store!
Get a free quote for your project
Fill out the online form or come and meet one of our designers.
Please fill out the form below to send us your information about the work that needs to be completed. We will contact you within 48 hours via email or phone.
SUBSCRIBE TO OUR NEWSLETTER!